Below is a playlist of some of the best instrumental tracks that I've released over the past few months / years. Everything has either been played out with VST instruments, sampled from my studio (drums / percussion sounds) or from my mouth.
I'm currently working with a few local and international acts, although I'm always down to work with other artists if the chemistry is there. More beats will be added, so bookmark this page or follow me on twitter / facebook to stay up to date with new music.
Training Camp
When I moved out west the goal was to learn everything I could about music production, mixing and mastering. It got to a point where I would spend all my free time making music whether it was on the MPC, Maschine or on my iPod. When I wasn't making music, I was reading books, or listening to as much music as I could. There was really not much of a break unless I was working or partying, which rarely happened.
I decided to name the project "Training Camp" and was starting to mix all the tracks for the project. Halfway through mixing I suffered an injury to my back. The injury was bad enough that I had to stop using the computer for a few months in order to properly heal.
Don't Sleep Sundays
When I returned to the studio I decided to replace a few of the instrumentals on "Training Camp" with some of my newer productions. A few changes turned into revamping the whole project and pretty much starting from scratch. I felt I had improved in my time off and didn't think they properly represented my skills. So I spent a few more months working on beats that I really felt passionate about.
"Don't Sleep Sundays" was a personal blog project I did a few years ago. Every Saturday night I would work on an instrumental and post it to soundcloud, twitter and facebook early Sunday morning. I couldn't sleep until I was satisfied with the beat and it had to have a distinct intro, verse and chorus (sometimes outro). Sometimes I would even stay awake after posting it and start working on another one until I was satisfied with how it felt.
During this blog I thought I might re-name the album to "Don't Sleep Sundays" (I'm so Indecisive), but 6 months into the blog (approx. 24 beats) I re-injured my back and couldn't use the computer again for an even longer period of time.
The Merger
When I returned for the second time, I finalized the format for the project and started the mixing and mastering process. I finally decided to split the album in two and give each section a different name.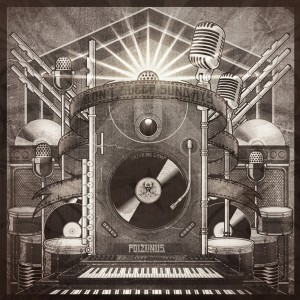 This project was a big part of my life and helped me realize a lot about myself and the people around me. I've since received recognition from a few music blogs and websites. Plus, I've been able to collaborate with local, international & major label artists.
I've recently taken a break from music to rest and will be back at it really soon. Music is my life and nothing will stop me from pursuing it!
Peace and thanks for reading,
P
Click here for some underground music or click here to go home.